SGS Confirms No Florescent Findings in Wonder Wraps Products
Like milk or formula milk, diapers are an essential part of every new born baby. It is therefore vital that the right choice of diaper is also essential. Occasionally, mothers will hear reports of firms improperly using florescent chemicals to enhance its products, resulting in understandable anxiety. To alleviate this worry for our mothers, Wonder Wraps has submitted all its products for testing to SGS, a global testing conglomerate. The results speak for themselves: SGS confirms that Wonder Wraps products do NOT contain any trace of florescent chemicals.
Experts claim that florescent chemicals are indeed a form of florescent dye, and is a complex organic chemical which allows objects it encounters to bear a glowing white essence. A major problem with florescent chemicals is that, once in contact with protein inherent in humans, it is very difficult for the chemicals to be discharged from the body. If enough florescent chemicals are built up, it can significantly weaken one's immune system as well as cause major damage to the liver and induce the development of cancer cells. As these florescent chemicals travel through the body, other organs can become infected. It is therefore important that these chemicals cannot be present in excessive amounts in sanitary products, even in packaging.
Wonder Wraps products are constantly brought to SGS for testing to ensure florescent chemicals are absent from our products. On top of this, our testing requirements also ensure superior diaper performance, as well as the absence of other harmful bacteria, such as coliforms, Staphylococcus aureus, and Pseudomonas aeruginosa. As can be seen from the sample test report below, it is clear that Wonder Wraps is a brand any mother and child can trust.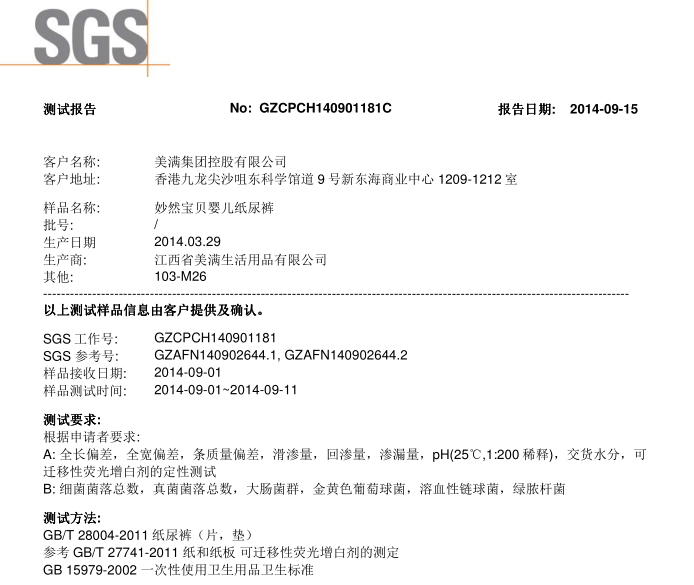 Marvel Group Holdings Limited's first line of children's diapers, Wonder Wraps, are not ergonomically designed, but use only imported materials that are produced in "closed" assembly lines, and undergo testing in accordance with international standards, ensuring the highest-quality product possible. For ease of purchase, Wonder Wraps has officially been launched in Taobao shops, making every mother's choice also the most convenient choice.
Share us: