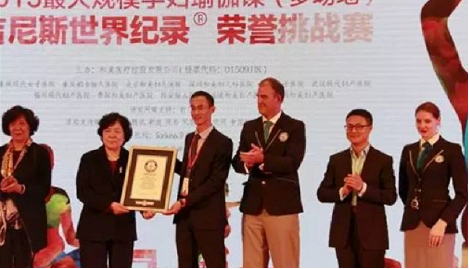 Wonder Wraps Supports Pregnant Women's Yoga Record Challenge
25 October 2015 – The Guinness World Record Challenge for most pregnant women practicing yoga together (multiple venue) was held today at the Window of the World in Shenzhen, China.
The event, with multiple sponsors and taking place simultaneously in Beijing, Guangzhou, Shenzhen, Chongqing, Xi'an, Wuhan, attracted 1,443 expectant mothers to make this the world's largest yoga session.  An official from the Guinness World of Records was present to witness the spectacular event.
At the Shenzhen site, a yoga instructor and around 12 other assistants lead the session as well as ensure the safety of all participants.  Other than the actual yoga session, participants were treated to many activities, including catwalks, live music shoes, meditation seminars, lucky draws and much more.
Childbirth is a natural process of the human evolution, and the fastest way to recover is via natural birth, which also promotes better health for the child, hence the trend away from C-section. In saying that, natural birth has its challenges, both mental and physical. Practicing yoga is an effective way of overcoming such difficulties, such as building the necessary mental and physical muscles through enhancing mental stability and muscular flexibility.  Yoga has also proven to control hormonal discharge, increase blood circulation, and control breathing patterns, all of which aids in the smooth delivery of a baby.
A critical factor in a healthy infant's health is the mother's health.  It is expected that, after this historic yoga event, more and more mothers will become more aware of their own health and practice the natural method of giving birth.  As part of our support, Wonder Wraps gifted each participant a large bag of Wonder Wraps products, so as to promote the importance of pre-natal exercise and natural birth.  A diaper is one of a baby's most intimate possession, and significantly impacts his or her health.  In our pursuit of becoming a mother's trusted assistant, we will continue to produce the best products possible, taking into account every little detail of a child's growth, to ensure a happy baby that can sleep, play, and love his or her mother without hindrance.
Wonder Wraps was established in 2012 in Hong Kong, and is the first diaper brand under Marvel Group Holdings Limited.  Wonder Wraps procures and imports the best possible raw materials from Germany, the U.S.A., Japan, and Korea.  Coupled with state-of-the-art machinery, we innovate and design products according to the most stringent international standards, ensuring minimal additives that can irritate a child's skin.  In short, in everything we do, we have the child's best interest in mind.
Share us: